Frigmaires started its association with the Lubricant industry in a humble way by manufacturing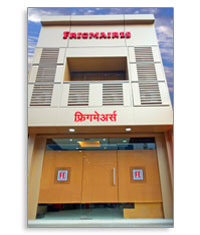 Milling machines for the Grease industry. Since 1975 we have supplied our milling machines to all the major Grease producing firms in India which were previously being imported. The confidence of our customers led to the manufacture of various types of processing equipments in this industry such as Mixing Vessels, Reactors, Deareators and Filling Lines etc. With the contacts and goodwill developed over the years we now offer complete Lubricants and Grease plants on Turnkey basis.
The services offered by us include Detailed engineering (Civil, Mechanical and Electrical),Equipment manufacture and supply,Product formulation,Lab set up, Raw material selection, Training and man power selection and finally plant start up assistance.
Our manufacturing facilities are located in Mumbai employing 50 people in a self contained workshop where we manufacture kettles and tanks upto 5 mtrs in dia. The entire plant is assembled and tested at our factory prior to shipment.
We also arrange for contract manufacturing for clients interested in getting products manufactured under their brand name.